Asia is easily known for the exquisite shores, rich natural resources and limitless ecotourism spots. One of them being, Anambas Islands was hailed by CNN as one of Asia's top five tropical island paradises. Here's why this wildcard destination is a must go vacation spot:
---
Travel coast to coast!
Home to 238 isles, charter a boat or speedboat and go island hopping. Brace yourself as the coves of Pantai Pulau Penjalin, Pulau Bawah, Pantai Selat Rangsang and Pulau Rongkat emerge from the sea as if it came from nowhere. At low tide, you can easily walk to the islands via the sand connects, creating an inland sea and outland sea with ivory sand, picturesque corals and aquamarine waters. You truly cannot miss out on the panoramic view!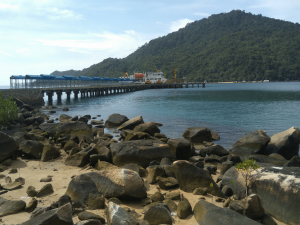 ---
Explore the deep sea!
Boasting its crystalline waters, the archipelago is a diver magnet! At any rate, its diving sites rival the best in the world. Aside from the kaleidoscopic coral reefs, you have the infamous Igara Wreck to explore. Try spotting Nemo or see if you can make the Zebrafish and the endangered Napoleon fish come out of hiding.
---
Feast on the local food!
No trip is complete without trying the local fare. The locals intended their cuisines with what the sea has to offer-fresh seafood! Try out their Mie Tarempa Lembab which is stir-fried noodles with fish toppings and gravy and Luti Gedang, a fried bread filled with fish floss.  Get your daily dose of caffeine with Anambas coffee. Locals serve it piping hot, pitch-black, smokey aroma and a kick! Coffee grounds can be seen at the bottom of your cup, evidence that it is freshly brewed.
The archipelago has the perfect formula for that dream getaway we only get to read from books. Fresh air + alabaster shores + picture perfect view = Anambas Islands!
---